Tierney's Tavern - Montclair, NJ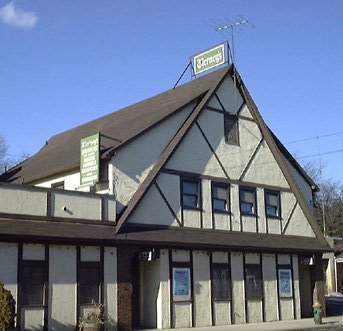 Since Keith and I lost our super-easy-access to New York when I moved out of my apartment, we discovered that we can have a more than satisfying bar experience at Tierney's Tavern in Montclair in between our trips to the city.
Walking into Tierney's Tavern, I feel like many a patron has done the same for years before me. There's a sense of community here, like the parents of the patrons all hung out at this watering hole when they were in their 20s. No worries though, there isn't that towny-bar feeling that a place like this could have.
The decor is simple. Dark, well broken in wood, provides a very homey and lived-in feeling. They don't bother with tchotchkes cluttering the place - beer and alcohol is the point here. There are, however, the ever-present St. Patrick's day beer banners hanging from the ceiling, but I'll take it.
The layout works for me... The tavern is split up into two floors. Downstairs, patrons have a choice of sitting at the large bar in the middle of the room or planting themselves at the long picnic-style tables around the perimeter. There's a very friendly vibe here, so don't be surprised if a group you don't know joins your table. Upstairs is a more open feeling with round, bar-height tables spread around the room, and a small stage area for bands.
Keith and I tend to keep to the downstairs as the bands aren't usually our style.
Our favorite spot downstairs is most certainly at the bar. Grab a seat there, have a few drinks, and you're bound to get a buy-back. The bar tenders are simple and easy-going. No fancy hot chicks in tiny tops tending bar here - not that there's anything wrong with that, but if that's what you're looking for, you're at the wrong place.
The one pseudo-negative I can come up with here is the Internet jukebox. You never know what's going to get played on there. Keith and I can tend to get influenced by the music playing at a bar, so sometimes we end up being unhappy with what we're hearing, but hey, if nothing else, you can at least talk about the crappy music people are playing.
Oh, and one important fact... This bar is CASH ONLY. There is an ATM in the back of the bar, so no big issue, but if you don't want to pay fees to take out cash, I recommend you stock up before you come.
While we're on the topic of money, drinks here won't make you go broke. We've experienced some drink specials on Guinness and its family of beers, and even without that, around $5 to $6 is what you'll pay for your brew.
Overall, this is a good, down to earth tavern. Come by, enjoy yourself and be merry at Tierney's.
~Vicky
136 Valley Rd
Montclair, NJ 07042